Soft Wash Roof Cleaning Services
Looking for professional Soft Wash Roof Cleaning Services? We are experts in cleaning all types of roofing substrates including Asphalt Shingles, Roof Tiles, Metal Roofs and more. Call us today for a free estimate and appraisal.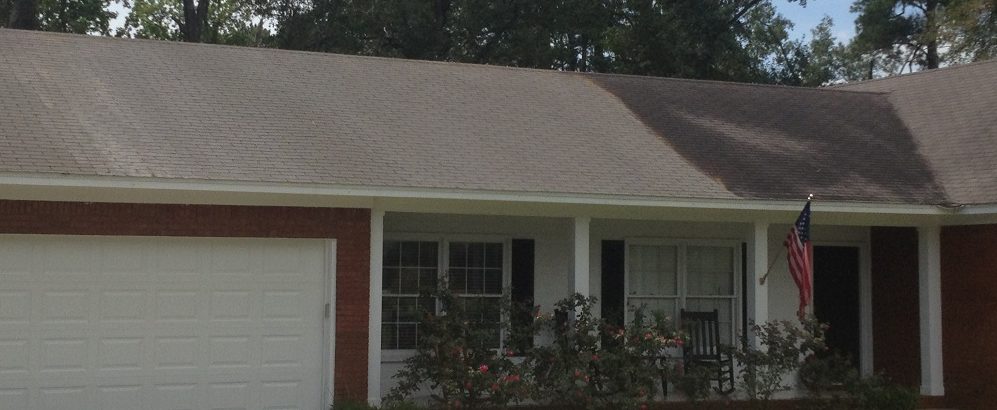 Never Power Wash Asphalt Shingles
Asphalt Shingles are an extremely delicate substrate and are not recommended to be be Power Washed! Leading roofing manufacturers such as GAF and the leading association ARMA (Asphalt Roofing Manufacturers Association) all recommend against Power Washing or Pressure Washing to clean Asphalt Roof Shingles. This is because of the delicate nature of the substrate. Shingles contain small limestone particles which can easily be dislodged by excessive pressure.
Soft Washing is the only recommended method of cleaning and restoring as per the leading roofing manufacturers and the leading Pressure Washing Associations. It is not only safer for your shingles, but it is also much more effective at removing dirt, grime, algae, moss, lichen and other fungi.
Roof Cleaning Valdosta GA
Looking for a professional Roof Cleaning Company in South Georgia or North Florida? We are located in Valdosta GA and service Valdosta, Thomasville, Homerville, Tifton, Albany and all surrounding areas of South Georgia & North Florida.
These stains are actually a type of algae called Gloeocapsa Magma. Green and black algae, mold and mildew can leave your roof tiles or asphalt shingles looking rather unsightly after just a few years. It especially thrives in the hot and humid weather of the Southeastern United States. It typically appears on the North or North East slopes of the roof where shade is more prevalent and moisture accumulates. Over time, rain spreads the algae down the roof, causing the black streaks.
As the algae break down the shingles, the granules that protect the shingle are loosened and fall off. This causes the roof to deteriorate and lessens the roofs ability to reflect heat rays. If left untreated, the algae will reduce the life of your roof, diminish your home's curb appeal, and increase your home cooling cost.This roof algae can be killed and removed to restore your roof's appearance. But the correct chemicals and low pressure are a must so that you do not damage the roof.
Fortunately, we are highly efficient and experienced in removing such stains and pollutants in a safe low to no pressure methodology. We abide by industry best standards that stimulates a soft wash method to clean roofing materials especially asphalt shingles.
Why Clean Your Roof
There are many reasons to get your roof cleaned. Not only can a clean roof be more aesthetically pleasing, but cleaning your roof can be better for your health or the health of your family. Fungus growth commonly found on roofing materials is a known respiratory irritant which can be especially dangerous to young children. The following is a list of key benefits to get your roof cleaned:
Increase your home or property's curb appeal
Extend the life of your roof
Increase the value of your property
Improve or protect the health of your family or home or property occupants
Valdosta Premier Roof Cleaning
We provide professional Roof Cleaning in Valdosta. Give us a call today, we provide free estimate and appraisals for all prospective clients in Valdosta GA and surrounding areas.